Industrial Safety Swing Gates
Unmatched Adjustability
YellowGate's twenty inches of adjustable length, adjustable swing direction and universal mounting system protects every passageway, with one swing gate. Simply count the number of openings you need to protect and place your order — no tracking of measurements or mounting types required.
Variable Width Swing Gate
With 16″ to 36″ of adjustability, YellowGate's universal swing gate covers the largest opening distance of any swing gate on the market.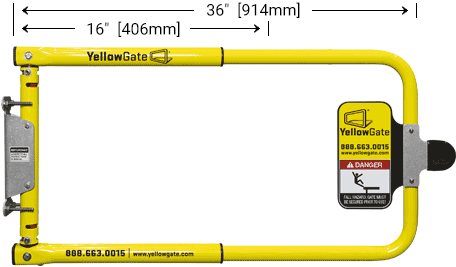 Adjustable Swing Direction
Changing the direction of a YellowGate's swing is as simple as changing a few bolts. With other swing gates, changing swing direction requires flipping of parts or mounting positions that restrict installation flexibility.